1

SpineTech PRO is compatible with Windows 7 and 8.
EFFECTIVE & ADAPTABLE PROFESSIONAL SOFTWARE Download the Fully Functional 10-Day FREE Trial.
Most Comprehensive Biomechanical Analysis Software Available.
Creates Complete ROF: X-ray, ROM, Posture, Listings, Care & Financial Plans.
Very Fast Analysis Times - Generate a Full Report in under 5 minutes.
Over 50 X-ray Mensuration Analyses for Cervical, Thoracic, Lumbar, and Pelvis.
Includes Cervical and Lumbar Ligamentous Analysis and Penning's for PI Work.
Works with DICOM, JPEG, PNG, DMX, Digital and Plain Film Images.
Includes Web Viewer to View Analyses on Mobile and Desktop Platforms.
Generate Comparative Reports to Demonstrate Progress.
Cervical and Lumbar Digital Spinal Range of Motion with Images of Patient.
Full AP and Lateral Digital Posture Analysis Report.
Scoliosis Measurements Included.
All 3 Normal Lateral Spinal Curves - Cervical, Thoracic, and Lumbar.
Include Comments & Annotations for All Studies and Print Them with the Report.
Full Pelvis Analysis with Measurements Included.
Affordably Priced and it Includes Support, Storage & Backup.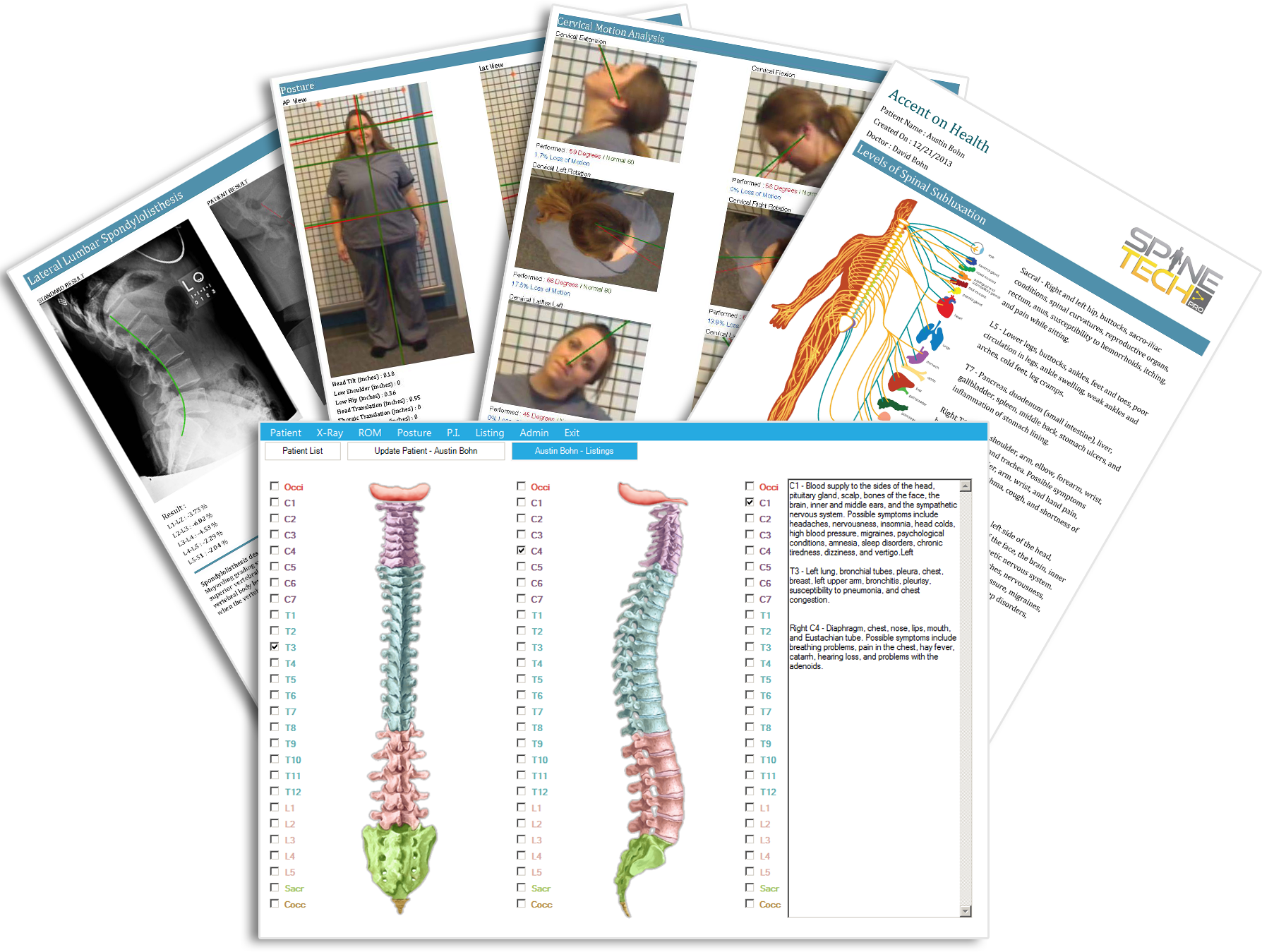 Create complete take home reports that demonstrate your patient's problems visually so that they can share their need for care with friends and family. This is the only ROF and Analysis software that includes X-ray, Posture, Range of Motion, Spinal Listings, Care Plan, and Financial Plan in one affordable package and is so easy to use. This makes patient education easy and very effective. Once your patient can see and understand their problem in so many different ways they will want care and the Care and Financial Plan Calculators clear up all concerns about frequency and cost.
SpineTech PRO software performs all the mensuration measurements professionals need to document biomechanical deficits and the need for care. You'll find that SpineTech Pro will stimulate referrals because patients who understand tell others.
The software includes a web interface at no additional charge that allows you to pull up patient studies anywhere you have a web connection and a device, whether that device is an iPad, an Android device, or a laptop computer. There is no limit to the number of stations or devices and there is no need for networking.
All reports are automatically converted into Adobe PDF format for easy exportation into other EMR systems. SpineTech PRO runs on Windows 7 and 8 and accepts JPG, PNG, DICOM and other image formats. You can use plain film or digital images for x-ray analysis and directly capture posture and ROM images from your computer. with DMX and DICOM. Digital x-rays are not required.
When you want the most advanced, complete, and effective biomechanical analysis and report of findings software available today you want SpineTech PRO.
SpineTech PRO was designed from the ground up for health care professionals who appreciate the importance of biomechanical analysis and understand the importance of documenting motion and postural deficits. When your patient understands what is wrong they are much more likely to commit to correction. SpineTech PRO is ideal for chiropractors, physical medicine providers, personal trainers, massage therapists, and physical therapists.